For The Community
Scholarships
Scholarships
A college education is the ticket to success for most people. The Youth Fair supports achieving students who seek the dream of higher education but need help to attain it.
The Youth Fair's blue-ribbon College Scholarship Program awards generous cash prizes to students enrolling in a college, university or trade school. To date, The Youth Fair has awarded well over $11 million to Miami-Dade students to help them achieve higher education.
Here are common questions about the Miami-Dade County Youth Fair & Expo Annual College Scholarship Program:
Q. How much is the scholarship?
A. The cash prize is worth $1,000.
Q. Who is eligible?
A. The scholarship targets college-bound senior high school students graduating from public, private and charter high schools.
Q. Are home-schooled students eligible to apply?
A. Yes, all students who meet college admissions requirements and will enroll in a school of higher education are eligible.
Q. What about non-traditional students?
A. The inclusive competitive scholarship program reaches students at alternative education and adult vocational programs. Also, Florida International University students who volunteer their time and talent to work at The Youth Fair's performing arts division are eligible to receive a scholarship.
Q. How does this program promote agriculture?
A. Certain scholarships are earmarked annually for students planning a career in agriculture related fields. The Youth Fair is a traditional county fair, a concept that originated in the 19th century as a way to promote modern farming.
Q. How do I apply?
A.The application period begins in mid November. For questions about the scholarship, please email us at scholarships@fairexpo.com.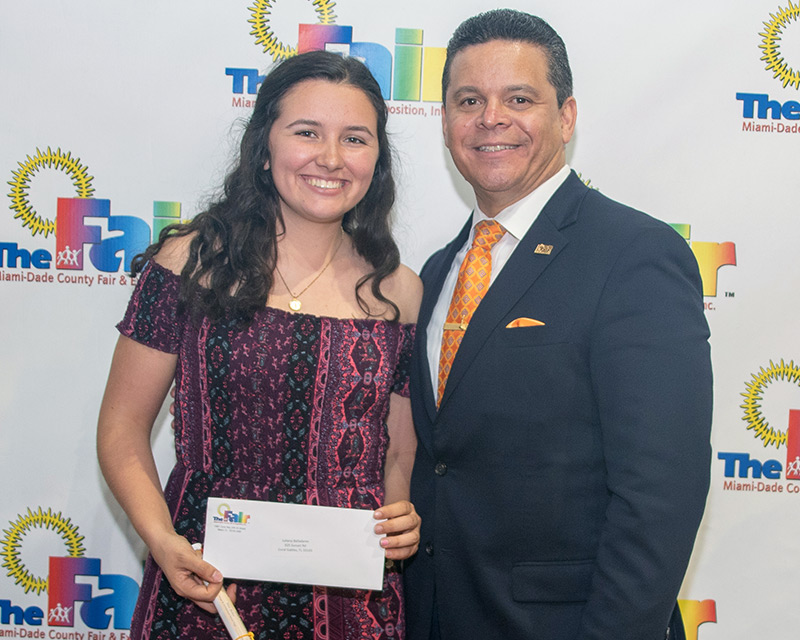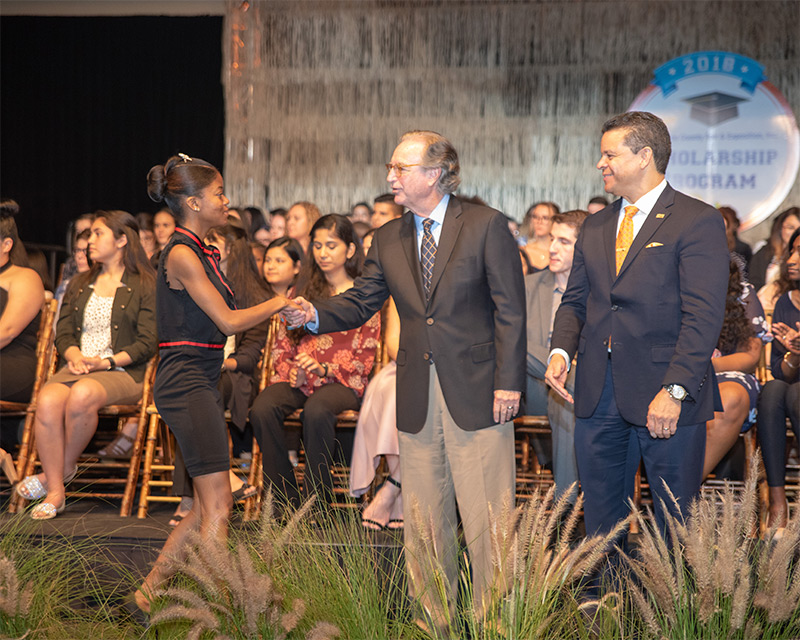 ---
2018 High School Scholarship Winners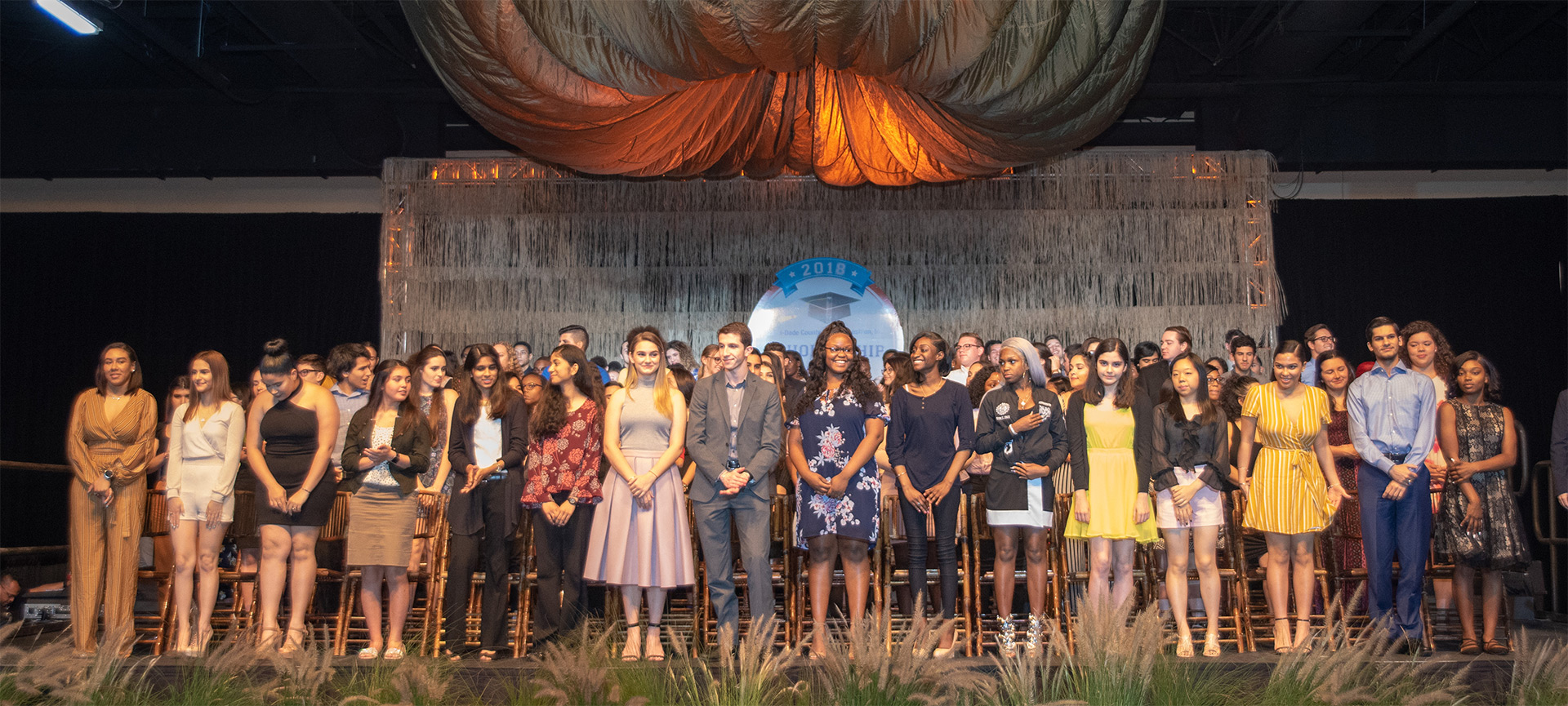 Alonzo and Tracy Mourning Senior High:

William Gozlan

Miami Lakes Educational Center:

Katherine Duarte

Alonzo and Tracy Mourning Senior High:

Dayanna Medina

Miami Lakes Educational Center:

Jessica Amanambu

Alonzo and Tracy Mourning Senior High:

Luna Perricone

Miami Norland Senior High:

Khamari Louissaint

American Senior High:

Demiya Davis

Miami Norland Senior High:

Shaquera Johnson

American Senior High:

Ayana Bradshaw

Miami Northwestern Senior High:

Kayla Walton

American Senior High:

Desiree Thomasa

Arthur & Polly Mays Conservatory of the Arts:

Shadiah Edwards

Miami Palmetto Senior High:

Nicholas Macia

Barbara Goleman Senior High:

Vincent Brown

Miami Palmetto Senior High:

Taylor Burroughs

Barbara Goleman Senior High:

Valeria Donoso

Miami Palmetto Senior High:

Gianna Sweeting

Barbara Goleman Senior High:

Emily Wong

Miami Senior High:

Britney Alpizar

Miami Senior High:

Ariel Trueba

BioTech@ Richmond Heights High School:

Jessica Little

Miami Senior High:

Adalain Sans

Booker T. Washington Senior High:

Abdallah Joudeh

Miami Senior High:

John Clement

Booker T. Washington Senior High:

Jamyra Rogers

Miami Southridge Senior High:

Nathaly Figueroa

Center for International Education:

Kimberly Erreguin-Vega

Miami Southridge Senior High:

Tytianna Elam

City of Hialeah Educational Academy:

Jonathan Fernandez

Miami Southridge Senior High:

Nakaycia Brewton

Coral Gables Senior High School:

Juliana Balladares

Coral Gables Senior High School:

Melanie Wu

Miami Springs Senior High:

Fouzia Raza

Coral Gables Senior High School:

Ximena Puig

Miami Springs Senior High:

Fariha Raza

Coral Gables Senior High School:

Alyssa Lamadriz

Miami Sunset Senior High:

Vaneska Salas

Coral Reef Senior High:

Eric Baugh

Miami Sunset Senior High:

Vanessa Andrade

New World School of the Arts:

Margaret Farrell

Coral Reef Senior High:

Carson Fallon

North Miami Beach Senior High:

Ritchel Calvaire

Coral Reef Senior High:

Steven Lazar

North Miami Beach Senior High:

Thierry Perard

Coral Reef Senior High:

Hannah Llende

North Miami Beach Senior High:

Francesca Pierre

Cutler Bay Senior High:

Estheralice Lopez

North Miami Senior High:

Lemec Petit-Frere

Cutler Bay Senior High:

Amberlynn Pitochelli

North Miami Senior High:

Lashawn McKenzie

Design & Architecture Senior High School:

Olivia Graham

Design & Architecture Senior High School:

Ruth Suarez

North Miami Senior High:

Melissa Latour

Doral Academy Preparatory Charter:

Carlos Jacoby

Our Lady of Lourdes Academy:

Gabriela Carballo

Dr. Michael M. Krop Senior High:

Alan Imar

Pinecrest Preparatory Avademy Charter High School:

Isabela Fernandez

Dr. Michael M. Krop Senior High:

Kaitlyn Guise

Robert Morgan Educational Center:

Markevia Bryant

Robert Morgan Educational Center:

Naeyana McNear

Dr. Michael M. Krop Senior High:

Nathaniel Manor

Robert Morgan Educational Center:

Eileen Toledo

Felix Varela Senior High:

Clara Betancur

Robert Morgan Educational Center:

Kayle Zaldivar

Felix Varela Senior High:

Karina D'Amato

Ronald W. Reagan/Doral Senior High:

Adriana Merino

Felix Varela Senior High:

Krystal Lucena

Ronald W. Reagan/Doral Senior High:

Daisy Lau

Felix Varela Senior High:

Kaytlin Alzugaray

Ronald W. Reagan/Doral Senior High:

Diego Mansilla

Florida Christian School:

Katrina Padron

G. Holmes Braddock Senior High:

Shan'T-Erica

School for Advanced Studies– All Campuses:

Natalia Mercado

G. Holmes Braddock Senior High:

Joel Gonzalez

School for Advanced Studies– All Campuses:

Anastasiya Shulhan

G. Holmes Braddock Senior High:

Roseliz Ochoa-Perez

South Dade Senior High:

Anay Gonzalez

G. Holmes Braddock Senior High:

Mary Faas

South Dade Senior High:

Ja'Kyra Brown

South Dade Senior High:

Johnpaul Salinas

G. Holmes Braddock Senior High:

Kevin Ferro

South Miami Senior High:

Mohammad Srour

Hialeah Gardens Senior High:

Ernesto Marin

South Miami Senior High:

Angelo Madruga

Hialeah Gardens Senior High:

Yailin Navarro

South Miami Senior High:

Anilegna Nunez Abreu

Hialeah Gardens Senior High:

Ashley Gutierrez

Southwest Miami Senior High:

Ana Castaneda

Hialeah Gardens Senior High:

Destiny Cepero

Southwest Miami Senior High:

Eunice Baez Toledo

Hialeah-Miami Lakes Senior High:

Tiana Downer

Southwest Miami Senior High:

Laura Paule

TERRA Environmental Research Institute:

Gabriel Gonzalez

Hialeah-Miami Lakes Senior High:

Jonathan Feliciano

TERRA Environmental Research Institute:

Daniela Cruz Falquez

Hialeah Senior High:

Genevieve Arias

Westland Hialeah Senior High:

Denise Carillo

Hialeah Senior High:

Maidelys Gonzalez

Westland Hialeah Senior High:

Jessica Nunez

Hialeah Senior High:

Stephanie Figueroa

William H. Turner Technical Arts High School:

Nella Justal

Hialeah Senior High:

Rodniel Placentia

William H. Turner Technical Arts High School:

Ruth Cherfrere

Homestead Senior High:

Laquarry Johnson

Young Men's Preparatory Academy:

Asia Hyman

Homestead Senior High:

Samuel White

Young Women's Preparatory Academy:

Johnisha Wright

iTech @Thomas A. Edison Educational Center:

Ebony Cobb

Youth Co-Op Preparatory Charter School:

Elizabeth Rodriguez

iMater Academy High School:

Sandra Hermoso

International Studies Prep Academy:

Isabella Menoyo-Torres

Homeschool

Homeschool:

Elan Koubi

iPrep Academy:

Flor Santana

John A. Ferguson Senior High:

Kelly Ly

Alternative Education Scholarship Awards

John A. Ferguson Senior High:

Kaitlyn Amador

COPE Center North:

Janet Santiesteban

John A. Ferguson Senior High:

Guisella Cruz

Dorothy M. Wallace COPE:

Elizabeth Alvarenga

John A. Ferguson Senior High:

Gonzalo Montoya

Dorothy M. Wallace COPE:

Thalia Navarro

Jose Marti MAST 6-12 Academy:

Michelle Garcia-Guevara

Pace Center:

Anyle Alcazar

Keys Gate Charter High School:

Tracy Noze

Law Enforcement Officers' Memorial:

James Bradshaw

Post-Secondary Scholarship Awards

Maritime & Science Tech Academy:

Alan Garces

D.A. Dorsey Educational Center:

Trinae Berry

Maritime & Science Tech Academy:

Ajay Sukhwani

George T. Baker Aviation Technical College:

Jonathon Murphy

George T. Baker Aviation Technical College:

Marian Boado

MAST @FIU Biscayne Campus:

Sarah Nguyen

Lindsey Hopkins Technical Education Center:

Mekka Jeanty

Mater Academy Charter High School:

Marian Pedreira

Lindsey Hopkins Technical Education Center:

Eric Garcia

Mater Performing Arts and Entertainment Academy:

Sophia Saco

Lindsey Hopkins Technical Education Center:

Toni Foster

Medical Academy for Science and Technology:

Paola Benitez

Miami Lakes Educational Center & Tech College:

Brittany Nelson

Medical Academy for Science and Technology:

Irene Garcia

The English Center:

Milton Canton

Miami Arts Studio 6-12 @ Zelda Glazer:

Leilani Fleites-Fernandez

The English Center:

Henry Lopez

Miami Beach Senior High:

Michelle Komisarchik

The English Center:

Stephanie Lavina

Miami Beach Senior High:

Glenda Jurado

Miami Beach Senior High:

Caroline Santos

Agriculture Scholarship Awards

Miami Carol City Senior High:

Ma'Kia Moulton

Coral Reef Senior High:

Mariana Carbonari

Coral Reef Senior High:

Nicholas Lopez

Miami Carol City Senior High:

Justin Mitchell

Coral Reef Senior High:

Celimar Mion

Miami Central Senior High:

Manadou Blaise

Coral Reef Senior High:

Sophia Salazar

Miami Central Senior High:

Tamara Fleurissaint

Coral Reef Senior High:

Jazsmin Taylor

Miami Central Senior High:

Deron Green

Coral Reef Senior High:

Jennifer Villate

Miami Central Senior High:

Isis Flanders

Coral Reef Senior High:

Luis Vissepo

Miami Community Charter:

Jazmin Espinnoza

Coral Reef Senior High:

Bryce Porter

Miami Coral Park Senior High:

Abiu Jorgge

Felix Varela Senior High:

Christian Dean

Miami Coral Park Senior High:

Melissa Padron

Felix Varela Senior High:

Milagros Lucero

Miami Coral Park Senior High:

Arismel Rodriguez

Miami Country Day School:

Noah Florin

Hialeah Gardens Senior High:

Soleil Lobato

Hialeah Gardens Senior High:

Abigail Colon

Miami-Dade Online Academy:

Michelle Espionosa

William H. Turner Technical Arts High:

Antoniette Collier

Miami Edison Senior High:

Deborah Cyrille

William H. Turner Technical Arts High:

Donate Brooks

Miami Edison Senior High:

Jaii Laguerre

William H. Turner Technical Arts High:

Darius Kemp

Miami Edison Senior High:

Micah Moses

William H. Turner Technical Arts High:

Zakara Skerrette

Miami Jackson Senior High:

Shirley Manzanares

William H. Turner Technical Arts High:

Keyuanna Williams

Miami Jackson Senior High:

Lamyra Thompson

Miami Killian Senior High:

Shawn Thomas

Miami Killian Senior High:

Chavely Gonzalez

Miami Killian Senior High:

Garisa Slaton