Walter B. Arnold, Jr. Youth Hall of Fame Community Service Award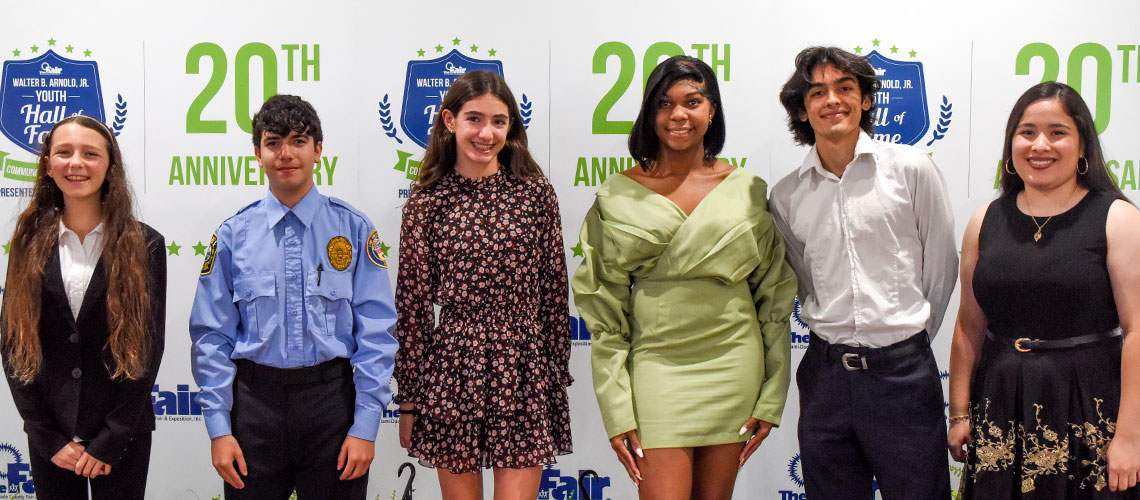 Walter B. Arnold Jr. admired the creativity, dreams and accomplishments of our community's youth and wanted to recognize and reward these talented young people. He was devoted to youth programs, community service and the celebration and recognition of young achievers.
The Youth Hall of Fame community service award recognizes noteworthy youth achievement for private and public middle and high school students from Miami-Dade County in service to their school and/or community.
---
Qualifications
Open to all middle and high school students in public, private, parochial and home schools.
Students should show an ability to lead and involve others in their community service project.
Students should demonstrate perseverance, independence, creative and critical thinking skills.
All services must be documented.
Community service should be varied with one major community service project highlighted.
---
Frequently Asked Questions
Who is eligible to apply?
Middle and high school students who invest their time and energy in helping others overcome hardships are eligible to win the award.
How many awards are allocated?
Four middle-school students and four senior high school students from public and private schools are selected every year.
What is the value of the award?
Finalists are also recognized in each of the five Regional Centers of Miami-Dade County Public Schools at the high school and middle school level. Private school finalists will be divided into the Regional Centers by the physical address of the school. Each finalist is awarded $100. One middle school and one high school Miami-Dade County student is selected each year to be inducted. Each inductee is awarded $1,000.
---
Youth Hall of Fame Inductees
High School

2001
Linda Oriental
Miami Jackson Senior High School
2002
Medardo Martin
Hialeah Senior High School
2003
Kathryn Zabielinski
Coral Reef Senior High School
2004
Alice Kim
Miami Palmetto Senior High School
2005
Harley N. Gould
Dr. Michael Krop Senior High School
2006
Laura E. Irastorza
Our Lady Of Lourdes Academy
2007
Judelys Gutierrez
Hialeah Miami Lakes Senior High School
2008
Kem Chatfield
Miami Carol City Senior High School
2009
Nicole Ludmir
Dr. Michael Krop Senior High School
2010
Dale Webster
Young Men's Academy
2011
Manuel Macias
Christopher Columbus High School
2012
Angeline Pino
International Studies Charter Senior High School
2013
Betsy Trujillo
G. Holmes Braddock Senior High School
2014
Leila Schwarts
Coral Reef Senior High School
2014
Waleed Mneimneh
Palmer Trinity School
2015
Kimberly Foreiter
Dr. Michael M. Krop Senior High School
2016
Maribel Corona-Villa
Robert Morgan Educational Center
2017
Shawn Kouri
Hialeah Senior High School

Middle School

2001
Kyle Amber
Palmetto Middle School
2002
Rigoberto L. Cabrera
Riviera Middle School
2003
Laura Irastorza
Epiphany School
2004
Leotha III Fleming
Allapattah Middle School
2005
Ethan Addicott
Highland Oaks Middle School
2006
Ashley Rempel
Arvida Middle School
2007
Natalie Buell
Homestead Middle School
2008
Michael V. Berrios
Miami Lakes Middle School
2009
Yhineeidy Castro
Henry H. Filer Middle School
2010
Tylor Davis
Southwood Middle School
2011
Kimberly C. Foreiter
John F. Kennedy Middle School
2012
Ashley Scarry
Southwood Middle School
2013
Joshua Williams
Ransom Everglades Middle School
2014
Sophie Barry
George Washington Carver Middle School
2015
Alyssa Cerber
George Washington Carver Middle School
2016
Gwendolyn Odin
Miami Springs Middle School
2017
Madison Amador
Leewood K-8 Center
---
2018 Inductees
SaiLasya Munamarty

SaiLasya, a seventh-grader at Archimedean Middle Conservatory, found her inspiration to stop child exploitation in an assignment at her school's philosophy club. SaiLasya summarized the group's findings on sex trafficking, child labor, organ trafficking, and drug trafficking then launched a Change.org petition to raise funds for organizations fighting these. She enlisted community support by speaking at schools, the Hindu Society of Miami, and Rotary clubs. Her efforts garnered 200 petition signatures, hundreds of dollars, and accolades from the Miami Police Department and Miami-Dade County Public Schools. Although she admits that bringing about change can be difficult, SaiLasya says: "One change can help change the world."

Anilegna Nuñez Abreu

Anilegna Nuñez, a senior at South Miami Senior High School, founded H.E.L.P., her school's tutoring and mentoring program, with a peer. When she tutored a schoolmate with autism, the positive experience opened her eyes to just how much of an impact the program could have. At least 56 students have been tutored through H.E.L.P., with another 40 involved in the program's mentoring component. Students who have attended 10 or more tutoring sessions have scored a 100 percent passing rate compared to 79 percent for those who have attended fewer than 10 sessions.